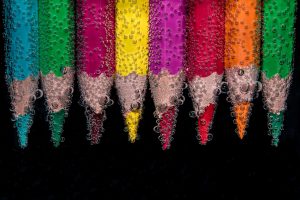 When we were planning our new building, we really thought that we would love to give back to our community.  We enjoy art, but neither of us is an artist, so we thought that we could share our wall space with local artists.  By displaying local works, we can help people support the arts at home.  Our hope is to provide some things you might not otherwise see.  We have installed some permanent art hanging systems and will be featuring artists from time to time.  If you are interested in having an opening in our office please contact Dr. Buchanan or Dr. Scheck
Current Show
Our newest artist is Karen Madden, Karen does some awesome work with fabric.  We are planning to have an opening show on Friday Jan 24th at 6 pm.  Please join use for some wine and view Karen's work.  A percentage of any artwork sold will be donated to the Westchester SPCA.
Karen Madden
Rock and A Soft Place Studio
rockandasoftplace.com
845.206.3297
Karen Madden is a self-taught, multi-media artist, working with fiber, particularly felting wool and most recently metal sculpting. Her love of working with her hands explains her interest in two disparate mediums. Each medium challenges her creativity as she learns to work with different materials.
Her body of fiber medium work ranges from large free-flowing pieces to more structured, framed pieces. Her inspiration comes from what her eye sees and her mind interrupts while traveling the world. The body of work on display at Hopewell Animal Hospital is from her "Of The Earth" series with many pieces inspired from her exploration of Iceland a few years ago.
Notably, Karen has been involved with several Hudson Valley art galleries and most recently chaired the ArtEast Open Studio Tour. Her award winning work has been shown nationally in museums and galleries.
Karen lives with her husband, Bob Madden in Pouqhquag, NY and you will find their studio: Rock and A Soft Place
To see more of Karen's work, visit www/rockandasoftplace.com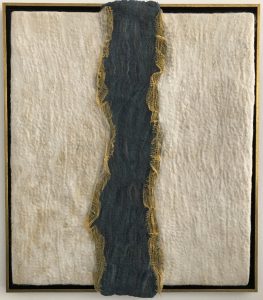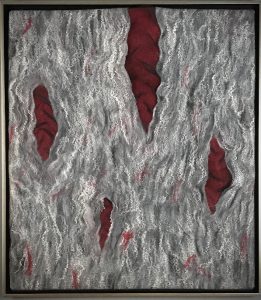 Previous Shows
We were  pleased to present the work of Pam Krimsky starting on Satuday Sept 14th.
Pam is an artist, a teacher and an activist. Growing up in Brooklyn, she adored the Brooklyn Botanical Gardens, and cherished time spent outside the City.  After college, (Queens College, 1978, BA, in Studio Art and Queens College, MFA, 1982, Painting), the Hudson Valley became her home.   Pam lived, taught and painted in Iran between 1991 and 2007, choosing to return to live in the Hudson Valley.  Although she came for the gorgeous landscape, the most strongly sustained subject matter in her work is painting figures from imagination.   It is through directly observing Nature painting outdoors that she returned to painting from imagination with more insight and refreshed.    She is  a member of Arts Mid-Hudson, The Tivoli Artists Gallery, Art Society of Kingston, RoCa and The Barrett Art Center.