This FAQ is mostly a resource from external sites that provide up-to-date information about COVID-19 and the SARS-CoV-2 virus as it pertains to veterinarians and pets.  We will add new information as often as we are able, as always, contact the office with any questions.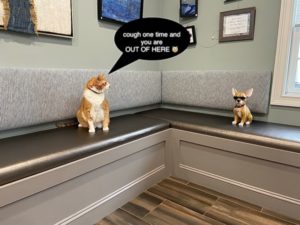 __________________________________________________________________________________________________________________________________________________________________________
December 2021:
Recently, we have seen a decrease in cases and we are still allowing clients to come into the building.  Our doors are open so please come on in.  We ask that non vaccinated clients please wear a mask.  The CDC is recommending that all people wear a mask when indoors due to the new Omicron strain of COVID -19.  If your are still concerned,  and would like to have a curbside appointment, please let us know when you make the appointment or when you arrive – we are very happy to accommodate  you.  We continue to  encourage all of our clients to protect themselves and others by getting a vaccine and a booster when you are eligible.
____________________________________________________________________________________________________________________________________________________________________________
November 17, 2020:  Here we go again
Since July we have been allowing clients to enter the building with their pets.  So far, this has been working great, but….  recently the country, New York, and Dutchess County have been experiencing a spike in COVID-19 cases.  Today, the positivity rate is at 2.77%.  With this in mid and our concern for the health and safety of our staff and clients we have made the decision to return to curbside service only.  We are still open with our regular schedule and have plans in place to handle any emergencies that present.  Our curbside service will begin on Wednesday November 18, 2020 and continue until further notice.
What to expect during your visit:
• When you arrive for your office visit, please call us and let us know that you are in the parking lot (You may be asked the color, make/model of your vehicle or a parking slot number; this is just to ensure our technicians know which car to approach). We will also ask that you provide a reliable phone number for your visit.
• A technician will call the provided number to obtain a thorough history on your pet. Once a full history is taken, the technician or veterinary assistant will come outside to transport your pet into the hospital. Please have your pet ready to take into the office, cats in carriers and dogs on leash.  Remember, our goal is to minimize contact between staff and clients.  Your pet's history will be relayed to the doctor and they will perform their exam.
* If you have questions you would like to directly ask the veterinarian prior to them starting their examination, please let the technician know so they can have the doctor call you.
• Following your pets exam, the doctor will call you to report their findings and discuss a plan.  Additionally, we will follow up the visit with an email containing a report summary of your pet's visit.
• Once the visit is complete the technician will call to inform you and transfer you to front reception where we can process payment over the phone. The technician will then safety bring your pet back out to your vehicle along with your receipt for the visit.
Thanks so much for your understanding.  With patience and a respect for scientific principles we can overcome this virus and stressful time.
_____________________________________________________________________________________________________________________________________________________________________________________________________
July 22, 2020: An update on our progress
We have been allowing our clients into the office in a limited capacity for the last 2 weeks and we are feeling very comfortable with the system that we have in place.  We greatly appreciate our clients willingness to fill out our questionnaire and have their temperatures taken.  Everyone has been great about it.  Please continue to wear your masks, and remember, we still offer curbside service if you are more comfortable.
__________________________________________________________________________________________________________________________________________________________June 18, 2020: We are planning our reopening!!!!
We are expecting to reopen our reception area on Monday June 29.  Please be aware that there will be some obvious and some not so obvious changes to our protocols.   Some of the  "quiet changes" include
Removing snacks, coffee and water station from our waiting room to facilitate cleaning
More frequent cleaning with EPA registered cleaners
Longer appointment times
Taking the temperature of staff members prior to beginning shifts, as well as having a COVID questionnaire filled out each day
As a health care provider, we already practice proper hand cleaning and facility cleaning
Some of the more obvious changes include
Asking clients to come in one at a time
Wait in the vestibule and fill out a questionnaire about your health prior to entrance into the building
Requirement that all who enter the hospital wear face covering
Markings on the floor indicating flow of clients and patients
We will be sending out email confirmation for appointments that will have a copy of the health form, you can fill that out at home and bring it in with you, you can also download the form here and bring it in.
If you are more comfortable, we are happy to continue to come out and bring your pet into the hospital for the examination and we will call you during the visit.
To try to minimize the number of people in the building, we are asking clients to use our curbside pick up for medications.  We are very happy to bring out your food or medications.
We are committed to try to ensure the health and safety of our staff, clients, and patients and we appreciate your patience as we transition to what we hope will be interim rules.
__________________________________________________________________________________________________________________________________________________________
April 17, 2020:  In case you need another reason to realize how awesome dogs are, look at this link.  It describes the use of dogs to sniff out the virus and may be useful in airports and stadiums etc.
__________________________________________________________________________________________________________________________________________________________________
April 13, 2020:  We have just received information that Ivermectin has  experimentally (in petri dish) been used against COVID 19.  PLEASE, PLEASE, DO NOT TAKE YOUR DOGS HEARTWORM MEDICATION.   Below is a letter from the FDA
FDA Letter to Stakeholders: Do Not Use Ivermectin Intended for Animals as Treatment for COVID-19 in Humans
April 10, 2020
Dear Stakeholder,
The FDA's Center for Veterinary Medicine has recently become aware of increased public visibility of the antiparasitic drug ivermectin after the announcement of a research article that described the effect of ivermectin on SARS-CoV-2 in a laboratory setting. The 
Antiviral Research
 pre-publication paper, "
The FDA-approved drug ivermectin inhibits the replication of SARS-CoV-2 in vitro
,"  documents how SARS-CoV-2 (the virus that causes COVID-19) responded to ivermectin when exposed in a petri dish. This type of study is commonly used in the early stages of drug development. Ivermectin was not given to people or animals in this study. Additional testing is needed to determine whether ivermectin might be safe or effective to prevent or treat coronavirus or COVID-19.
Ivermectin tablets are approved for use in people for the treatment of some parasitic worms (intestinal strongyloidiasis and onchocerciasis) and ivermectin topical formulations are approved for human use by prescription-only for the treatment of external parasites such as headlice and skin conditions such as rosacea.  Ivermectin is FDA-approved for use in animals for prevention of heartworm disease in some small animal species, and for treatment of certain internal and external parasites in various animal species.
FDA is concerned about the health of consumers who may self-medicate by taking ivermectin products intended for animals, thinking they can be a substitute for ivermectin intended for humans. People should never take animal drugs, as the FDA has only evaluated their safety and effectiveness in the particular animal species for which they are labeled. These animal drugs can cause serious harm in people. People should not take any form of ivermectin unless it has been prescribed to them by a licensed health care provider and is obtained through a legitimate source.
Ivermectin is an important part of a parasite control program for certain species and should only be given to animals for approved uses or as prescribed by a veterinarian in compliance with the requirements for extra-label drug use. Due to potentially elevated interest in ivermectin following the new research, some products may not be available. If you are having difficulty locating a particular ivermectin product for your animal(s), the FDA recommends that you consult with your veterinarian.
The FDA has established a cross-agency task force dedicated to closely monitoring for fraudulent COVID-19 products that reaches out to major retailers to ask for their help in monitoring online marketplaces. Products that claim to prevent, diagnose, treat, or cure COVID-19 are subject to FDA investigation and potential enforcement action if they have not demonstrated safety and effectiveness for that intended use. The task force has already worked with retailers to remove dozens of these types of product listings online.
Please help us protect public health by alerting FDA of anyone claiming to have a product to prevent or cure COVID-19 and to help safeguard human and animal health by reporting any of these products to 
FDA-COVID-19-Fraudulent-Products@fda.hhs.gov
 or 1-888-InfoFDA (1-888-463-6332).
We recognize this is a challenging time and urge you to continue practicing social distancing by sharing this information electronically.
Thank you for your support. Please stay safe and healthy.
Dr. Steven Solomon
Director of FDA's Center for Veterinary Medicine
Additional Information
_________________________________________________________________________________________________________________________________________________________________________________________
March 31, 2020: Below is an information page from the NYS Veterinary Medical Society, it is intended to provide information to prepare your pets in the event that you may need help during this pandemic:
Pet Planning for COVID-19
Take time now to make plans and prepare your pets in case you need help caring for them due to COVID-19. For a downloadable guide you can complete to help with emergency planning for pets, see NYC Emergency Management's Pets page: https://www1.nyc.gov/site/em/ready/pets.page
If you are sick with COVID-19 (either suspected or confirmed), the CDC recommends that you restrict contact with pets and other animals, just like you would around other people. When possible, have another member of your household care for your animals while you are sick. Avoid contact with your pet including, petting, snuggling, being kissed or licked, and sharing food. Wash pet bedding, leashes, collars, dishes and toys the same way you would clean other surfaces in your home. If you must care for your pet or be around animals while you are sick, wash your hands before and after you interact with them. For more information visit: What to Do if You are Sick.
Make a Plan – Prepare for a Human Health Emergency:
Designate a trusted pet caregiver (family, friend, neighbor, colleague). Your identified caregiver should have a set of your house keys, be familiar with your home and pet, know your emergency plan, and have your contact information.
Record important information about your pet so that you can easily access it during an emergency.
Put together a Go Bag for each pet with basic food, supplies, medicine, identification, a list of emergency contacts, your veterinarian's contact information, and vaccination proof.
Keep a collar/harness, leash, and your animal's Go Bag in a place where it can be easily found.
Have crates, food and extra litter and other supplies on hand for quick movement of pets.
If you have neighbors who are self-quarantined or otherwise in need of help, offer to walk their dog or take pets for routine visits.
Talk with your local veterinarian, kennel, grooming facility, or other potential boarding facilities to see if they can offer safe shelter for your pet during a health emergency.
Update animal vaccines (Rabies, Bordetella) in the event boarding becomes necessary.
If your pet is on medication, ask your veterinarian for an extra supply.
Ensure all medications are documented with dosages and administering instructions.
If you do not have a yard, be sure to have extra cleaning products and newspaper/puppy pads on hand if you cannot leave your home to walk your dog.
Ensure Proper Identification:
Dogs and cats should wear a collar or harness, rabies tag, and identification tag at all times. Identification tags should include your name, address, and phone number, and the phone number of an emergency contact.
Make sure your pet's microchip is registered and up to date.
Veterinary Care:
Refrain from physically visiting your veterinarian for routine or non-urgent issues during this time. Call your veterinarian ahead of time to confirm if your pet is experiencing an emergency.
__________________________________________________________________________________________________________________________________________________________________________________________________________________________________________________________________
March 25, 2020:   Here is more proof that animals DO NOT get the corona virus.  The gist of the story is that a large veterinary lab tested over 3,500 animals and returned no positive cases.  Below is the article:
Idexx Laboratories tested thousands of pets for coronavirus. None have come back positive
There is still no evidence that pets can be a source of COVID-19 in people.
As fears about COVID-19 — the disease caused by the novel coronavirus — continue to mount, there's something that can be a source of comfort rather than concern: our pets.
In mid-February, Idexx Laboratories, an American multinational corporation and global leader in veterinary diagnostics, started testing samples from dogs, cats and horses for the coronavirus strain responsible for COVID-19. Veterinarians submitted more than 3,500 specimens from dogs, cats and horses in South Korea and all 50 U.S. states, including areas experiencing human COVID-19 cases like Seattle.
To date, zero have tested positive.
"Our results aligned with the current expert understanding that COVID-19 is primarily transmitted person to person and that pets aren't likely to contract the disease and probably have a low likelihood of spreading the disease," Dr. Jim Blacka, a veterinarian and senior director at Idexx, told TODAY.
He said Idexx was able to quickly develop and validate its testing because of its large team developing technologies to screen for infectious diseases. Additionally, veterinarians were already submitting samples to test for other health issues.
"As a leading diagnostic company, we felt we had a responsibility to veterinarians and the pet-owning community to better understand the animal health implications of this novel coronavirus," he said. "Screening for infectious disease is core to what we do."
Blacka said Idexx will continue testing and collaborating with health authorities and animal hospitals.
__________________________________________________________________________________________________________________________________________________________________________
March 24, 2020: Latest information from the NY State Veterinary Medical Society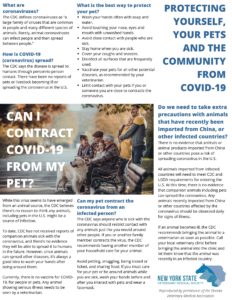 __________________________________________________________________________________________________________________________________________________________________________
March 23,2020:   New York State Regulations have limited veterinary services to sick and emergency visits only. We will continue to be open for these services at our normal business hours. You are still able to pick up your pets medication & food, please see below for our pickup policy. Please see our website for the latest on COVID-19 and veterinary medicine.
We would like to thank all of our clients for your patience and understanding. We appreciate your support and we hope that everyone is staying safe and healthy during this time.
What to expect during your visit:
When calling to make an appointment you may be asked a few yes or no response questions in regards to your risk of previous exposure. Please understand these questions are just a precaution. For a layout of these questions please check our website under the COVID-19 info page.

When you arrive for your office visit, please call us and let us know you are in the parking lot (You may be asked the color, make/model of your vehicle) .

A technician will come out and obtain a thorough history on your pet. They will then bring your pet inside the hospital, relay the history to the doctor and they will perform their exam.
* If you have questions you would like to directly ask the veterinarian prior to them starting their examination, please let the technician know so they can have the doctor come out to your vehicle.

Following your pets exam, the doctor can call or come out to your vehicle to report their findings and discuss a plan.

Once the visit is complete the technician will bring your pet back out to your vehicle, the doctor will email you a "report card" of your pets visit and one of our receptionists will come out to assist you with check out!
* We can process payments over the phone if you prefer to do so.
Medication/Food Pick up:
We will call you when your medication/food is ready to be picked up.
Please call us when you are in the parking lot and we will bring your medication/food out to you.
If you wish, payments can be taken over the phone or at time of pickup.
If you are worried about traveling at this time please take advantage of our online pharmacy!
__________________________________________________________________________________________________________________________________________________________________________
March 20, 2020: Sadly, the dog who tested positive for COVID -19 did pass away, we do not have any proof or concern that he passed from the virus.  Here is the entire story with the most up to date info:
The one in Hong Kong who tested "weak positive" for SARS-CoV-2 on February 28. And again on February 29. And again on March 2, and yet again on March 5.
According to the South China Morning Post, the dog passed away on Monday after he was returned home following a government quarantine and a negative test. The dog, a 17-year-old Pomeranian, belonged to a 60-year-old woman who was diagnosed with—and recovered from—COVID-19.
A spokesman for the city's Agriculture, Fisheries, and Conservation Department (AFCD) told the South China Morning Post that the department learned of the dog's passing on March 16. "The owner said she was not willing to [allow] an autopsy to examine the cause of death," the spokesman added. (The AFCD had not responded to NEWStat's request for comment by the time of publication.)
After repeatedly testing "weak positive" for the virus via nasal, oral, and blood samples, the dog finally tested negative on March 12 and was sent home.
The dog, who outlived a Pomeranian's average 9- to-16-year life expectancy and had underlying health issues, probably did not die from the virus, according to medical sources close to the case, who told the South China Morning Post, "It is very unlikely the virus had any contribution to the death of the dog."
The dog, whose infection was discovered in February, is believed to be the first known case of human-to-animal transmission of the virus. And despite repeated assurances from health organizations that pets are safe from COVID-19, stories about the late Pomeranian continue to inspire confusion, panic, and fear among pet owners.
__________________________________________________________________________________________________________________________________________________________________________
March 20,2020:  New York State has designated animal hospitals as essential services, we will be open, but we have modified our visitation protocols.  When you make an appointment we will ask some basic health questions to help us prepare for your visit.  We understand that you may want to be with your pet during our examination, however, we can not allow this to help protect our staff and facility.  Your patience is truly appreciated.    Be safe and Healthy  Kim and Jerry
______________________________________________________________________________________________________________________________________________
March 18, 2020: Below is a copy of the phone tree we will use when you call to make an appointment.  Unfortunately, we will have to ask about your health, remember it is not personal and we are trying to protect everyone.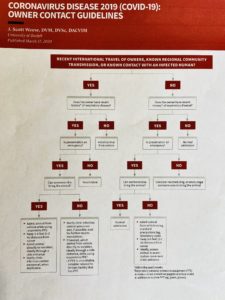 __________________________________________________________________________________________________________________________________________________________________________
As of today March 18, 2020, we are open as usual.  You will notice that we will be asking some questions when you make an appointment so that we are able to ensure the safety of our staff and clients.  As always, our appointments are 30 minutes long so we can practice social isolation.  Our staff has been updated on proper sanitation procedures and we are doing all we can to try to limit exposure.  Staff members that are ill have been instructed to stay home out of an abundance of caution.
A novel coronavirus, named severe acute respiratory syndrome coronavirus 2 (SARS-CoV-2), was identified as the cause of an outbreak of respiratory illness first detected in Wuhan, China in 2019. The illness caused by this virus has been named coronavirus disease 2019 (COVID-19).
Where can I find more information about COVID-19 that I can understand?
We advise people who are concerned about exposure risk, precautions and latest news to consult the CDC information site, as it is expected to contain the most up-to-date information.
Can SARS-CoV-2 infect dogs, cats and other animals?
We don't really know.  Preliminary evidence suggests that one dog in Hong Kong that lived with a person infected with the virus tested positive multiple times over multiple days.  This suggests that the dog was in fact infected, rather than just contaminated with the virus.  In mid-March, 2020, the World Health Organization stated that there is no evidence at present that dogs and cats can be infected with SARS-CoV-2, develop the disease, or spread the disease.  It is important to note that SARS-CoV-2 was not isolated from the dog in Hong Kong – only RNA was identified via RT-PCR.
Infection, however, requires additional steps than just having the RNA of the virus.   Viral replication, avoiding the host immune response etc. are also necessary components of infection and potential transmission.
Can infected dogs and cats transmit the disease to people?
Currently, no evidence exists that dogs and cats, even if infected, can transmit the SARS-CoV-2 virus to humans. Indeed, no infected cats have been identified. To date, all transmission has been human-to-human, after the initial jump from bats (most likely) to humans.
Could the SARS-CoV-2 virus cause clinical disease in dogs, cats or ferrets?
We don't know.  The one dog that might be infected in Hong Kong showed no clinical signs.  The closely related SARS virus did not cause disease in cats (but cats were able to transmit the virus to other cats). In contrast, disease did occur in experimentally infected ferrets. There is currently no evidence that domestic animals can develop disease from this virus or, if infected, transmit it to other animals or people. However, study of animals to date has been limited.
Should I (can I) test a pet for SARS-CoV-2?
Many animal diagnostic laboratories are not currently set up to test for this specific coronavirus.  Some are, and might be able to test animals with known exposure.  For example, if the owner is infected (confirmed), it could be possible for them to ask for testing of their pet dog or cat (or ferret).  However, given that the current data suggest that these pets are not infective to people, the rationale for doing this is questionable.
The dilemma about testing pets increases, given that any owner with a known infection (has tested positive) should be quarantined, and their pet should be considered, from a health-and-safety perspective to also be contaminated or infected.  Consequently, you would be required to adopt precautions to prevent infection. Measures include wearing PPE (personal protective equipment), a face mask, and face shield (to prevent contact from the pet's potentially contaminated haircoat,  saliva, or other droplets,  into your eyes).
Can I still go to the veterinarian if I am sick?
It's best if you self-quarantine. The CDC says that If you have a medical appointment, call the healthcare provider and tell them that you have or may have COVID-19. This will help the healthcare provider's office take steps to keep other people from getting infected or exposed. Perhaps someone else can take your pet in.
For everyone's safety, if you believe you have been exposed to COVID-19, call your veterinarian before having your pet seen for any health conditions. Practice social distancing. You and your veterinarian can discuss the safest approach for all concerned whether he needs immediate medical intervention or not. Prescriptions can be mailed, but make sure you call early enough so that they will arrive in the mail by the time you need them.
What about cats?
Cats are still a bigger concern in this scenario because they were able to be infected by the SARS virus and could infect other cats with SARS, and this virus is similar enough that it's reasonable to be concerned that it could infect cats as well.  However, there has been little testing (in fact, none that we know of) of cats so far, though undoubtedly many cats have been exposed through their infected owners.  Time will tell based on field study (hopefully) and probably experimental work.
Should I avoid contact with pets or other animals if I am sick with COVID-19?
The CDC recommends the following : " You should restrict contact with pets and other animals while you are sick with COVID-19, just like you would around other people. Although there have not been reports of pets or other animals becoming sick with COVID-19, it is still recommended that people sick with COVID-19 limit contact with animals until more information is known about the virus. When possible, have another member of your household care for your animals while you are sick. If you are sick with COVID-19, avoid contact with your pet, including petting, snuggling, being kissed or licked, and sharing food. If you must care for your pet or be around animals while you are sick, wash your hands before and after you interact with pets and wear a facemask." Please check for new updates on CDC's website.
If my pet has been in contact with someone who is sick from COVID-19, can it spread the disease to other people?
While we do not yet know for sure, there is no evidence that companion animals can be infected with or spread SARS – Cov-2.  We also do not know if they could get sick from this new coronavirus.  Additionally, there is currently no evidence that companion animals could be a source of infection to people. This is a rapidly evolving situation and information will be updated as it becomes available.
What should I do if my pet develops an unexplained illness and was around a person with documented COVID – 19 infection ?
We don't yet know if companion animals can get infected by SARS-Cov-2 or sick with COVID-19. If your pet develops an unexplained illness and has been exposed to a person infected with COVID-19, talk to the public health official working with the person infected with COVID-19. If your area has a public health veterinarian, the public health official will consult with them or another appropriate official. If the state public health veterinarian, or other public health official, advises you to take your pet to a veterinary clinic, call your veterinary clinic before you go to let them know that you are bringing a sick pet that has been exposed to a person infected with COVID-19. This will allow the clinic time to prepare an isolation area. Do not take the animal to a veterinary clinic unless you are instructed to do so by a public health official.