A LONG, HEALTHY, LOVING LIFE FOR YOUR PET STARTS HERE.
Are you wondering how to treat your dog's seizures or how to relieve your dog's joint pain? Hopewell Animal Hospital is proud to offer Traditional Chinese Veterinary Medicine as an option for our patients. The best way to treat many different ailments is through the use of Acupuncture. This helps to ease your pet's pain, reduce inflammation and help restore energy flow which results in improved or cured health problems.
Acupuncture, which originated in China, has been used as a therapeutic treatment option for thousands of years. According to traditional Chinese medicine, energy flows through the body in specific pathways called "meridians" or channels. When a disease is present, energy is interrupted or unbalanced. Stimulating acupuncture points along the meridians can restore energy flow, resulting in improved or cured health problems. Acupuncture can also be used to manage pain and hasten recovery after surgery.
Because the needles used in acupuncture are extremely thin, they cause minimal or no pain and are generally well tolerated by pets. We are also capable of utilizing our therapeutic laser to stimulate the points on animals too sensitive for needles.
Dr. Buchanan has advanced training in all aspects of Traditional Chinese Medicine, and all three current doctors at Hopewell Animal Hospital are certified acupuncturists.
To determine if your pet's condition(s) may be responsive to this type of treatment, please set up an exam with one of our qualified veterinarians.
Acupuncture is extremely effective at improving the following pet conditions:
Arthritis
Joint Inflammation/Disease
Hip Dysplasia
Chronic Back Pain
Spinal Cord Conditions
Lick Granulomas (Lesions)
Range of Motion Issues
Trauma
Neurologic Issues
Asthma and Respiratory Issues
Gastrointestinal Issues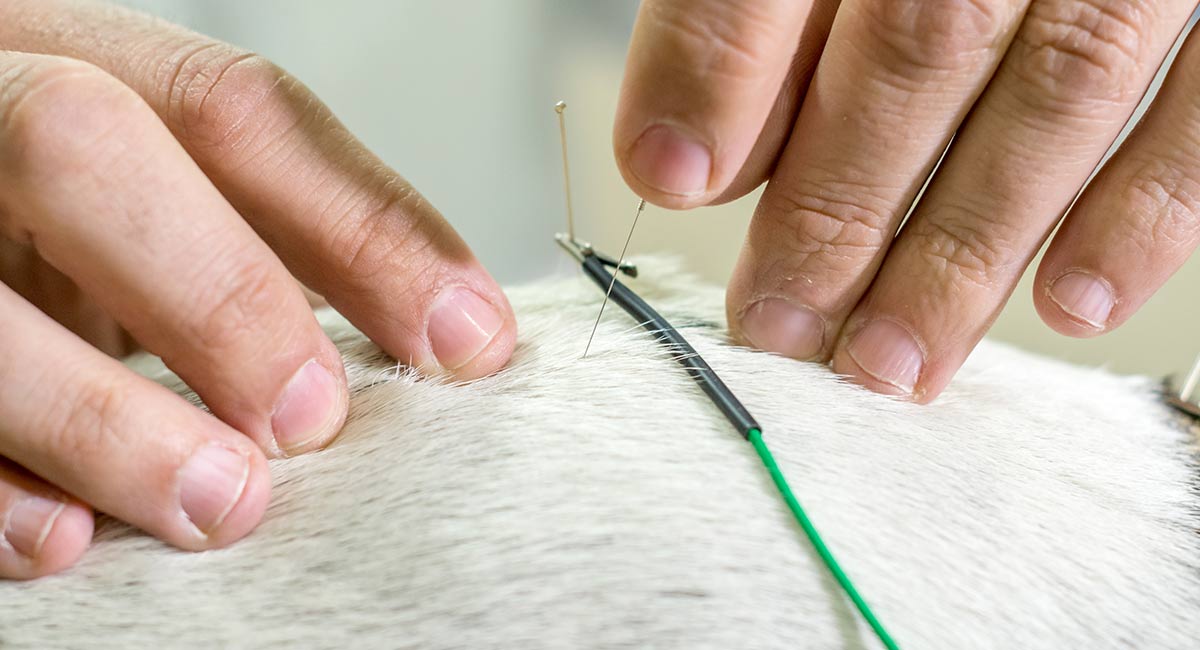 Does Your Pet Suffer from Any of These Conditions?
Symptom:
Vomiting
Diarrhea
Constipation
Poor Appetite
Unusual Weight Loss or Gain
Other Gastrointestinal Issues
A standard poodle we have treated had a several-year history of weight loss, intermittent vomiting and diarrhea, and inconsistent appetite. She responded beautifully to a home-cooked diet created on TCVM principles and has thrived for many years.
Symptom:
Coughing
Congestion and Wheezing
Runny Nose and Eyes
Respiratory Issues
A young adult cat being treated for asthma with steroids and bronchodilators, which both have relatively serious side effects, was still having coughing episodes and intermittent difficulty breathing. After three sessions of acupuncture and the addition of an herbal combination, his cough was gone. His occasional asthma attacks responded well to individual acupuncture treatments.
Symptom:
Anxiety or Depression
Obsessive Behaviors
Sudden Change in Behavior
We treated a puppy that was rescued from a southern state and had experienced early life trauma. This puppy was extremely nervous and reluctant to interact with people. Modifying his diet and the addition of an herbal combination calmed him and allowed him to mature into a confident, stable dog.
Symptom:
Itching
Losing Hair
Wounds
Self-inflicted "lick granuloma" wounds respond well to a series of local acupuncture treatments. The acupuncture decreases local inflammation/pain/itchiness and allows the areas to heal.
We treated a dog with a traumatic stab wound (impaled by a stick) who experienced excessive bleeding and swelling. Acupuncture assisted wound comfort during treatment, and an herbal combination stopped bleeding and promoted healing at the site.
Symptom:
Chronic Pain or Stiffness
Unable to Jump on Furniture
Difficulty with Stairs/Getting into the Car
A General Slowdown of Activity
We treat a large number of older dogs with arthritis who experience these types of symptoms. We have found that they respond wonderfully to acupuncture and herbal formulas, which allow them to regain a healthy, active lifestyle again. Or, if your pet is experiencing acute pain due to a traumatic injury or suddenly starts limping, has swelling, or is uncomfortable when touched, they can also benefit from acupuncture and herbal formulas.
Symptom:
Seizures and Trembling
Stumbling/Unable to walk (paralysis)
Unsteady Walking/Dragging Toes/Falling
Several seizure patients that had limited response to medications have been well maintained with the addition of acupuncture and herbal combinations. Numerous paralyzed patients have been able to walk on their own again after a series of acupuncture treatments, which may take from one to six months or more.