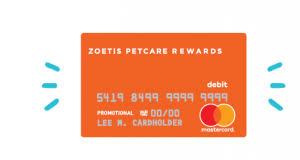 Save money on Zoetis Pet care Products
We know that pet medications can be very costly, especially for medications that are for chronic diseases such as arthritis, allergies and flea/tick control.
Recently, we teamed up with Zoetis to offer a Petcare Rewards Program.  This program allows you to save money on many of the products you may be using.
This is a really simple program.  Every time you purchase an eligible product, you will submit your invoice via email/text within 60 days.  Every item has a specific number of points associated with it.  When you reach 100 points Zoetis will send you a Petcare Rewards Mastercard.  This card is refillable as you purchase additional medications.  The Zoetis card can be used at our office for anything your pet needs including wellness visits, medications, or surgery.
Products included in the program are:
Simparica Trio
Revolution Plus
Convenia (pet must be over 20#)
Apoquel
Rimadyl Tablets
So if you purchase 1 year of Simparica Trio (a flea/tick/heartworm preventative), Zoetis will put 550 points on your card which is $55.00.
To sign up go to zoetispetcare.com/rewards