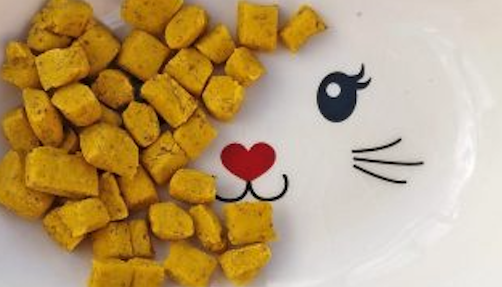 Many of the problems that your pet may experience are the direct result of the food they are eating. At
Hopewell Animal Hospital
we regularly see pets with respiratory problems, GI disturbances (diarrhea, constipation, inflammatory bowel), anxiety, lack of stamina, inflammatory or skin conditions, chronic conditions or pets who do not easily medicate or do "bodywork" (acupuncture or massage). For those pets, we have found they respond remarkably well to 
TCVM (Traditional Chinese Veterinary Medicine) food therapy
. By utilizing our knowledge of food ingredients and their impact on health,
Dr. Buchanan
works closely with you create a personalized diet specific to the needs of your individual pet that will encourage their maximum health.
With those healing principles in mind, for
#recipetuesday
once a month we present to you a recipe to provide your dog or cat some easy, delicious food and treats!
---
Cats are meticulous groomers, and while regular brushing helps reduce the chances, hairballs can and still do happen. Though you might not be able to eliminate them completely, you can minimize the occurrence with a homemade treat that supports health and tastes great- enjoy this recipe from Carrie Miller at Broomstick Pet Treats! 
Hairball Control Cat Treats
Instructions
Preheat oven to 350° F. Set a sheet of parchment paper the size of your baking sheet to the side.

In medium bowl, combine all ingredients; mix thoroughly. Wrap dough in plastic wrap. Let rest 5 minutes.

Unwrap dough; knead a few times. On parchment paper, roll dough out to 1/4" thickness.

Using a pizza cutter, cut narrow strips vertically or horizontally. If dough starts sticking, wipe off cutter. Repeat in the opposite direction. When finished, you should have a patchwork grid.

Transfer parchment paper to cookie sheet. Bake 10 minutes.

Remove cookie sheet from oven. Using a spatula or your oven-mitted hands, break up treat grid. Spread bits around evenly and return to the oven.

Bake 10 to 15 minutes, or until the edges are golden brown. Remove from oven and let cool. Or, bake 10 minutes and turn oven off; leave in oven for several hours or overnight.
Recipe Notes
Feeding Instructions
IMPORTANT: Hairballs are normally harmless, but not always. Talk to your vet if your cat develops a swollen or hard belly or has difficulty pooping, attempts to vomit but nothing comes up or experiences repeated coughing.
Shelf-life & Storage
These treats will last 4 to 6 weeks when kept stored in an airtight container in a cool, dry place. Refrigerate for longer shelf-life. They can also be frozen for up to 3 months. If your cat doesn't have dental issues, frozen treats are safe to eat.
---
Sign up for our newsletter to receive move great recipes like this delivered right into your email box every month. Do you have a recipe you think we should try? Let us know and we'll share the best ones!