What is AAHA?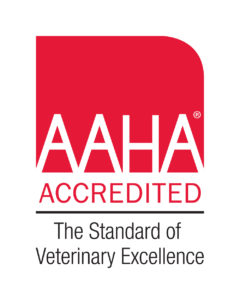 Hopewell Animal Hospital is proud to announce that we have become Certified by the American Animal Hospital Association (AAHA).  Unlike our human counterparts, veterinary hospitals do not have to be certified.  The AAHA certification is extended to about 12% of the the veterinary hospitals nationwide, currently that is only 4000 hospitals.  We have been preparing for this evaluation for 1 year.  This certification ensures that we have looked at every aspect of our practice from anesthesia and pain management to record keeping and client communication, there are currently 940 standards to which we adhere.  A summary of those guidelines can be found here.
AAHA certification is just one of the ways we are trying to improve the care that we provide to you and your pets.  We are very proud of our staff who have helped us prepare for this certification, and who went through and continue to go through staff improvement to try to provide you and your pets with the best possible experience.
One of the immediate benefits that our clients can take advantage of is a discount on pet insurance.  AAHA member veterinary hospital clients can get a discount on pet insurance through PetPlan insurance.  As with any insurance please examine the plan carefully.