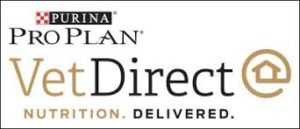 Purina Products Direct to You!
Now you can have Purina products shipped directly to your home from Purina.  Cut out the middleman or woman.
We have partnered with Purina to be able to provide our clients with Purina products – prescription food or their regular line such as ProPlan, Friskies, etc, sent to your home directly from Purina at a discount.  These prices will be lower than Chewy and other online retailers.  Because the food is directly from the manufacturer, the food will not be sitting in a warehouse and will be fresher.  Purina also will offer discounts from time to time but does have discounts for autoship purchases.  Purina also backs up the food with a palatability guarantee.  The best part, free shipping no matter what size the purchase.
To use the Purina from home:
Go to ProPlanVetDirect.com
Sign up as a new client and use the code U6ZI5 for our hospital
If you order any non prescription products including Forti Flora, they will send them directly to you, if you order a prescription diet they will contact us for authorization.