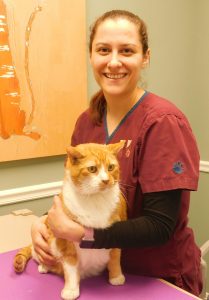 We are proud to announce that we have recently been awarded Gold level certification as a Feline Friendly practice.  This means that we are able to provide additional care for cats not available in all hospitals.  During the process of certification, we were able to demonstrate separate waiting areas, medical wards, and even a cats only exam room.  In order to maintain our certification, our staff will be maintaining ongoing training and continuing education on cat specific issues such as behavior and medical problems unique to cats.
Ina Feline Friendly Practice, the staff learns how to understand the needs of the cat such as how to interpret a cat's facial expression and body language.  The staff is also well trained in alternative techniques to calm an anxious cat and ensure that exams and procedures do not escalate anxiety.  We have also appointed Sam B. as our cat advocate, her role is to ensure that all standards are met or exceeded, spearhead training for our staff on feline issues and interact with clients to ensure a successful, pleasurable visit with their cat.
We will be adding special posts of cat related issues on our website, please feel free to contact Sam or any of our staff for more information.
Dr. Buchanan and Dr. Scheck would like to thank all the staff for the hard work and dedication necessary to reach Gold Status!!!