We're not just any vet, we're dif-fur-ent!
A long, healthy, loving life for your pet starts here.
Hopewell Animal Hospital is a full service hospital and more. We are proud to provide a full range of medical services, exams, in-house laboratory diagnostics, routine and advanced surgery, dentistry, cryo surgery, spinal manipulation therapy, Traditional Chinese Veterinary Medicine and acupuncture, as well as specialty referral procedures such as ultrasound, regenerative medicine and cardiology. Our doctors are also happy to provide help with more "exotic" pets, but generally refer their more involved care to other practitioners.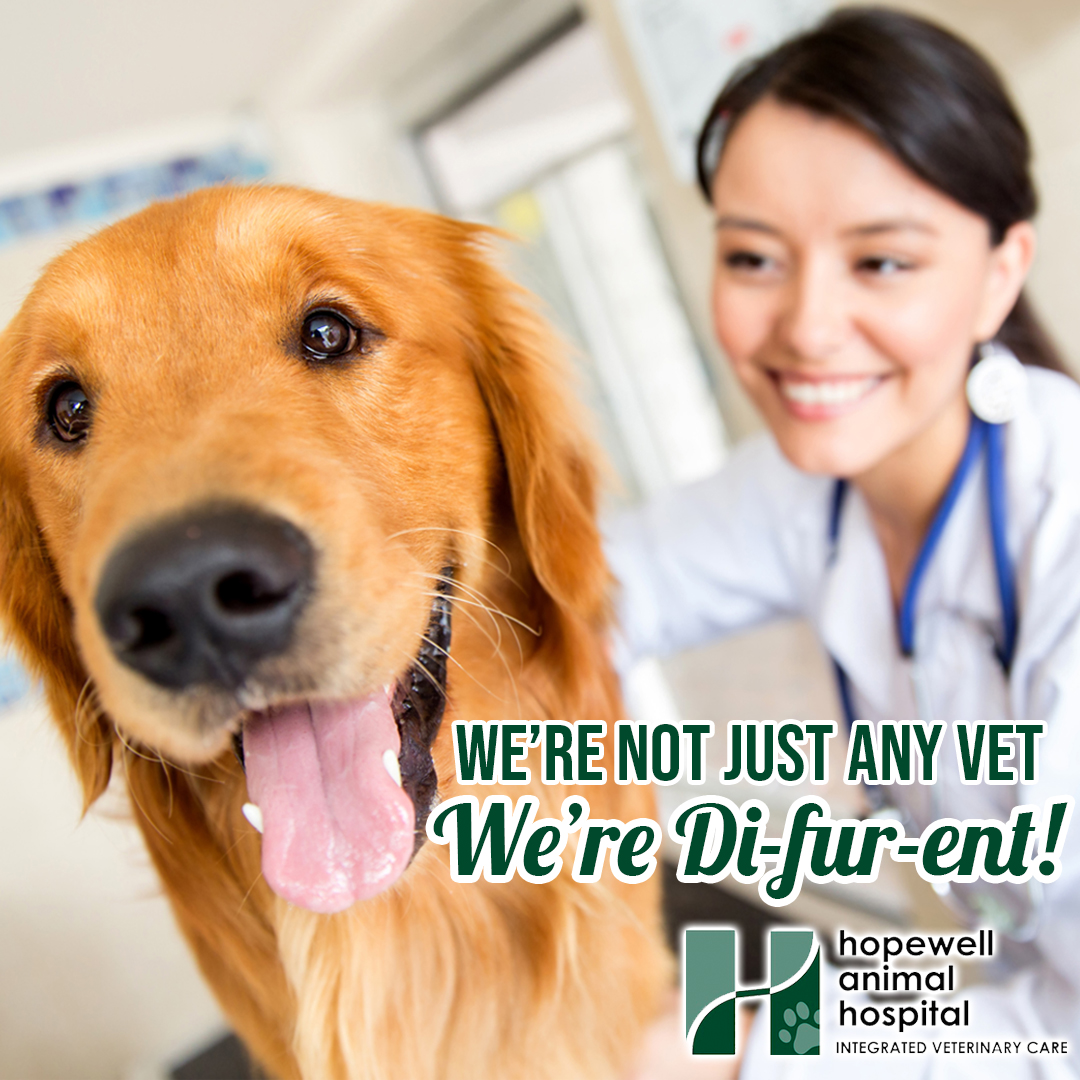 We honor and understand the bond between pet and owner, we strive to medically care for your pet but also help you make difficult decisions regarding your pet's care.  Our staff have all experienced the special attachment between pet and owner and we strive to treat each pet as we would treat our own. Take a virtual office tour to experience our space, and when you're ready make an appointment for your pet!
Come on in to learn more!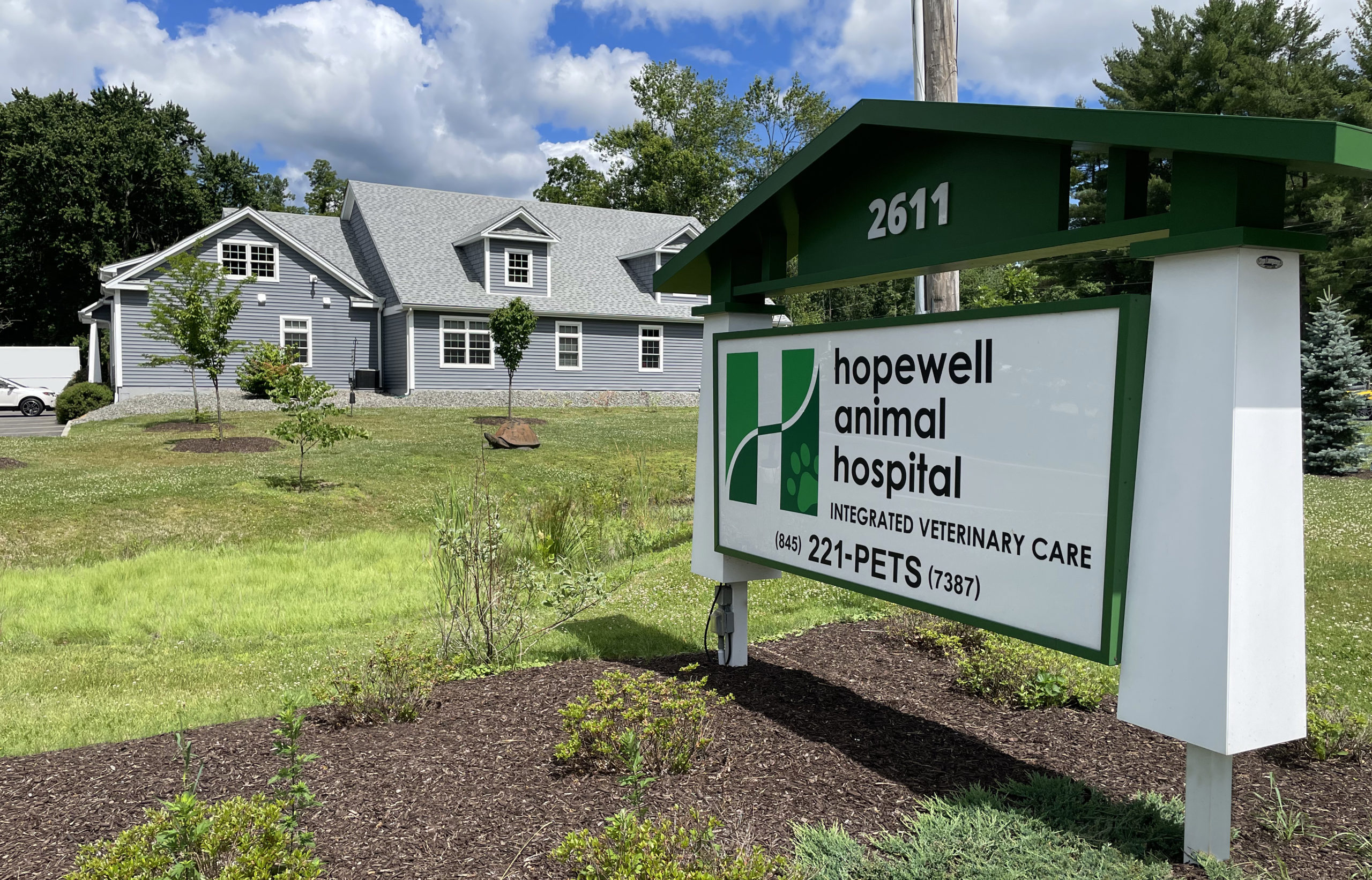 Welcome to Hopewell Animal Hospital!
"Hopewell Animal Hospital, owned by Dr.s Kim Buchanan and Jerry Scheck, strives to provide high quality medicine and surgery in a low stress atmosphere. Our goal is to treat every client and patient as the whole and unique individual that she or he is. We will use traditional and complementary methods, as well as appropriate referrals to provide the ultimate in integrated veterinary care."
We are proud to provide a full range of medical services, exams, vaccinations, laboratory testing, routine and advanced surgeries, dentistry, and radiology. Outstanding offerings include cryosurgery, spinal manipulation (chiropractic), Traditional Chinese Medicine (including herbal medicine and food therapy), acupuncture, ultrasound, cardiology, cancer care, and stem cell therapy.
We offer a Wide Range of Veterinary Services
Medical Services
Dental Care
Radiology (X-Rays)
Ultrasonography
Medical Assessment
Anesthesia and Patient Monitoring
Laboratory
Medicine
Microchipping
TCVM
Food Therapy
Acupuncture
Spinal Manipulation
Herbal Medicine
Integrative Medicine
Specialty Services
Behavior Medicine & Training
Penn Hip
Photobiomodulation Therapy (Laser)
Stem cell Therapy
Platelet Rich Plasma therapy
Cryosurgery
Holistic Care
Nutritional Counseling
Lifestyle Management
Hospice & Palliative Care
Pain Management
Pet Bereavement Support Group
Preventive Services
Flea Prevention and Control
Heartworm Prevention
Tick Prevention
Wellness and Vaccination Programs
Traditional Chinese Veterinary Medicine
At Hopewell Animal Hospital, we strongly believe there are more ways than one to address health issues. While we are well trained in conventional medicine, we understand that some disease processes lend themselves to treatment with other methods. Because of this need, we have expanded our training into other areas of medicine.
Does your pet suffer from:
Anxiety?
Depression?
Coughing and Respiratory Issues?
Vomiting, Diarrhea and Digestive Issues?
Itching?
Seizures?
Chronic Pain and Stiffness?
We at Hopewell Animal Hospital have undergone extensive training to interpret external signals and translate that information into a treatment plan. The treatments used in TCVM consist of multiple modalities such as acupuncture, herbology, tui-na (bodywork or massage), food therapy, and even lifestyle modification. All these components are used in combination as we attempt to restore balance. We strongly believe that TCVM is not only for sickness but can enhance wellness at any stage of life.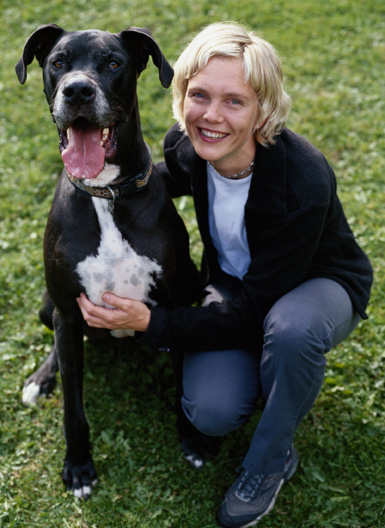 If anyone is in need of finding a veterinarian for your pet I highly highly recommend Hopewell Animal Hospital on Route 52. They are the most nicest, compassionate, understanding people and they make sure your pet comes first... I can't say enough good things about this place. I'm so thankful that Dana was able to get me in yesterday or I don't think my baby would have made it another day ❤️

Brooke Neilan

Facebook
"The very BEST DVMs in the area! Attention to detail, love, and care for our cherished pets. Your new building is BEAUTIFUL and super pet friendly. Congratulations on your dream come true - an amazing job very well done!"

Geri DeWitt Ruby

Facebook
We have known Dr Jerry Scheck and Dr Kim Buchanan for over 20 years. They are the most wonderful, loving, dedicated and compassionate veterinarians we know locally... I cannot thank them enough!

Gregg Buddenhagen

Facebook
Amazing!
The care and support they've provided my son and his beautiful Xina has been phenomenal. I strongly recommend them. If you want true, honest, exceedingly wonderful care for your pet, come to them. My son now takes all of Xina's pups there as well.

Nyes Rodriguez

Google
(845) 221-PETS (7387)
We Welcome New Clients!
We are currently welcoming new clients to our privately owned local practice in Hopewell Junction, NY. By joining Hopewell Animal Hospital we guarantee that you will not be disappointed with the level of service you will receive.To get started simply get in touch with us! You can call or email our clinic and one of our friendly staff members will be more than willing to help you.
---
OFFICE HOURS
(BY APPOINTMENT)
Monday: 8:00 am – 7:00 pm
Tuesday: 8:00 am – 5:00 pm
Wednesday: 8:00 am – 7:00 pm
Thursday: 8:00 am – 5:00 pm
Friday: 8:00 am – 5:00 pm
Saturday: 8:30 am – 3:00 pm
Sunday: Closed
Answering service after hours.